Featured Golfer: John Koeckhoven, Palm Springs CA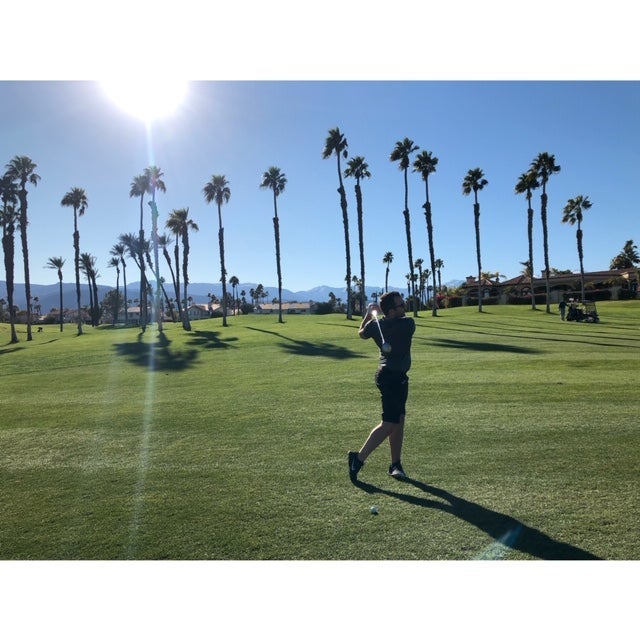 My main sport has always been softball but when I'm not swinging a bat, I love swinging my clubs. I am an average golfer, with a soft spot for the long game and no interest in the short. I can beat the guys on one day and double bogey everything the next. With the cold weather that seems to never want to leave us, I caught myself day dreaming of warmer days. Someone out there has to be dreaming of the sun too, so I'm sharing my list of 5 local golf courses, what they are about and why I love playing them! 
The Links at Spruce Grove
The Links at Spruce Grove is a beautiful 18 hole course located on the North side of Spruce Grove surrounded by some of our most desirable neighbourhoods. The Links welcomes players of all skill levels and is a preferred course for many tournaments. The Links also offers banquet rooms for private events and gatherings. 
Why I like golfing at the Links

: I have been going to the Links since I decided I was able to keep up with my big brothers, (Tanner and Travis Hawryluk). I immediately loved the atmosphere, the friendly staff and the convenience of the location. I have played this course for birthdays, corporate events and as a date night with my husband and enjoyed my round each time. Fun fact, I also had my wedding shower hosted at "The Grill" their banquet room/restaurant and planned my dads surprise 60th birthday there as well! Needless to say The Links has been a go-to for my family and I for years and I know that it will continue to be for a long time!
Visit their 
website
 at 
to learn more!
Stony Plain Golf Course
The Stony Plain Golf course is located at 18 Fairway Drive in Stony Plain and is a 18 hole golf course offering mens and ladies leagues, junior league, tournaments and now virtual golf!
Why I like golfing at the Stony Plain Golf Course

: I remember my early days of picking up a club being at the Stony Plain Golf Course. I always had to do what my older brothers did and since they had worked there a few summers, I decided it was a good place to be. I joined the "junior junior" club where I learned to play the game of golf and realized I was having so much fun! Today, my husband and I have discovered it is a perfect date night also taking into account they have a 9 and dine option that is well worth a Friday night! I have always had a great experience here and continue to visit multiple times each summer!
Visit their 
website
 to learn more about rates and booking in to get a head start on your game this year!
Edmonton Springs Golf Resort
Edmonton Springs Golf Course is a friendly and challenging course located just minuets East of Spruce Grove. Featuring its welcoming "Mulligans Lounge" it is a relaxing and enjoyable course!
Why I like golfing at the Edmonton Springs Golf Resort:

 OK, disclaimer. I have never golfed well at this course. There always seems to be a hole that runs up my strokes and I end up losing count! However, I have always enjoyed my time here! I love the atmosphere, the laid back feel all the while offering a great level of difficulty in the course. 
Visit their 
website
 to learn more about their offering!
JR Golf Course
JR Golf Course is a great little course located on Meadowview Drive in Sturgeon County, North East of Spruce Grove. They pride themselves on being friendly to both their customers and the environment in which they are located!
Why I like golfing at JR Golf Course:

I really enjoy this golf course! I feel like its the perfect escape just out of Spruce Grove and the staff is always friendly! An affordable round of golf and lovely scenery, this course is a must visit :)
Visit their 
website
to learn more.
On Par Golf and Lounge
Ok disclaimer, not an actual golf course, but we live in a climate where its not always green so we need to get creative! At On Par Golf, you can go anywhere (and I mean anywhere) enjoying courses from all over the world without boarding a plane. Friendly and helpful staff ensure you and your friends enjoy 9 or 18 holes. Perfect for a night out or a private event! 
Why I like golfing at On Par Golf:

 I have been here a few times since its opening in Spruce Grove. I can honestly say that I love the social aspect of the game and this lounge amplifies it. Playing dreamy courses and drinking wine is the perfect combination for me and is what will keep me coming back throughout the year. The staff is friendly, helpful and know how to use the simulators well! I always appreciate their "tips and tricks" to ensure I make my putts!
Visit their 
website
 to learn more about their offering and even some great options with their "multi-sport" game!
Happy Summer Dreaming everyone!